We're in the
Fall Festivals
already! One more to go!
Fall Festivals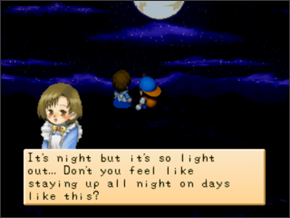 The Music Festival
Day: Fall 3rd
Time: 06.00 pm
Location: Church
On 2nd of Fall Carter will ask you to play an instrument in the festival. If you say yes, he'll like you more :) You need to get there on time or you'd be locked outside and Carter would be disappointed if you do that :( You'll sit and listen to some tunes, and the villagers will ask Karen to sing like an opera singer. at the end of the tunes you'll hear a crashing window and a bird, flying away from the place. Thanks to Karen's voice :p
Harvest Festival
Day: Fall 9th
Time: 10.00 am
Location: Town Square
In this festival every villagers will bring one item to add inside the giant pot. It doesn't really matter if you don't bring anything, but it's best to add an egg. People will like you more if you do :) But if you add strange things to the pot such as Poisonous Mushroom the villagers will talk about the strange taste of the soup.
Moon Viewing Day
Day: Fall 13th
Time: 06.00 pm
Location: Top of Mount Moon
This is the night where you can spend some time with the girl you like while looking at the full bright moon :) It's so romantic <3 :d=":d" and="and" but="but" can="can" check="check" do="do" doesn="doesn" for="for" great="great" heart="heart" her="her" it="it" level.="level." much="much" nbsp="nbsp" out="out" p="p" really="really" s="s" sadly="sadly" t="t" the="the" view="view" you="you">3>
Sheep Festival
Day: Fall 21st
Time: 10.00 am
Location: Yodel Ranch
When you have a sheep with fully grown wool, you can enter the competition. Just make sure that the sheep is not pregnant and not shaved :) The winning sheep will produce a Golden Wool. Yaaay!